Mountain bike tours for the whole family
For many years Lake Garda has been considered Europe's number 1 mountain biking arena. For the first time, this roadbook also presents route suggestions for the south eastern Lake Garda region – the area around Garda, Prada and Torri del Benaco. Monte Baldo's southern foothills offer countless hidden lanes and tracks of all kinds just waiting to be discovered. In this book the renowned transalper Andreas Albrecht shares over 50 of his best tours in his favourite biking area. The route descriptions make you want to climb on your bike and ride them, especially as the risk of loosing your way has been removed – GPS data is provided for every tour.
ISBN: 978-3735784209
160 pages, 52 tours with variants, 59 GPS-tracks
couloured height profiles and overview maps, with riding surface
price: 24,99 EUR
order via AMAZON-Germany
order via BoD
order via Amazon UK
About the author:
Andreas Albrecht gave up his safe 9 to 5 in order to live his dream. Imperceptibly his hobby of bike riding, specifically mountain biking has grown into much, much more. Over the years, through his website www.transalp.info where Andreas presents his tour reports, an ever growing fan base has built up. The move to book author was a logical next step. When asked why this all came about he replies "don't search for the way, the way finds you."
tour list: Lake Garda GPS Bikeguide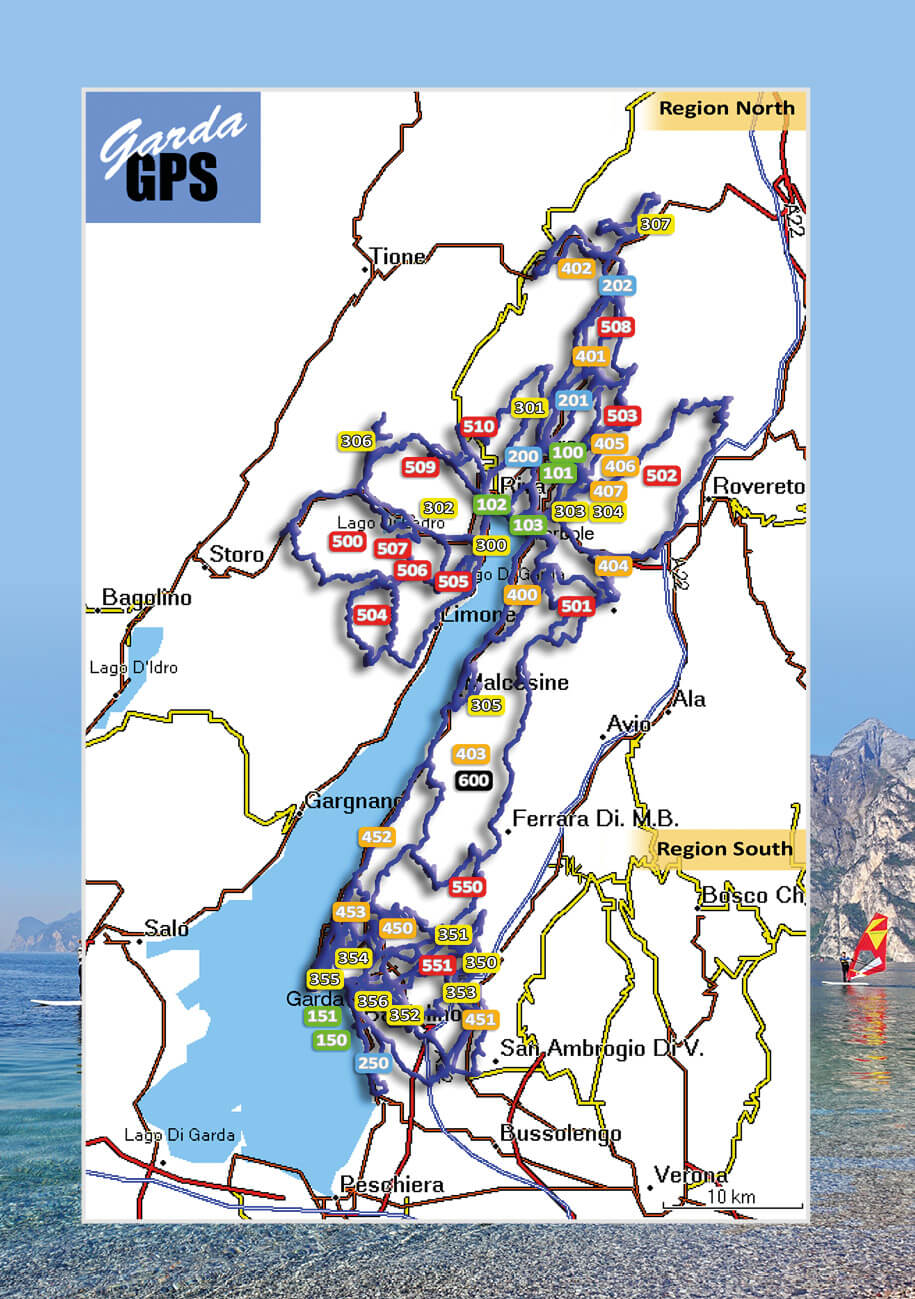 Nr.
northern region Gardasee
Nr.
southern region
1. Bambini tours:
As the name suggests these tours are designed with children in mind, perfect for the first bike trips with the whole family. The vast majority of the tours follow the cycle paths which are usually asphalted. The routes are basically flat, and contain no major climbs meaning that an altitude profile is superfluous. They are up to 10 km long. Some tours can serve as transfers to the start and end points of other longer tours.
100
Torbole – Arco cycle path
150
Garda – Bardolino costal path
101
Giro di Linfano
151
San Vigilio
102
Giro di Brione
103
Torbole – Riva costal path
2. Taster tours – flat:
These tours are over 10 km but contain no or very few climbs. They are suitable for warm up tours and shouldn't be a problem for older children used to bike riding.
200
Giro di Torbole, Arco, Riva
250
Short Garda round
201
Dro Shoe market
202
Lago Cavedine, Lago Toblino
3. Taster tours – mountain:
In order to make these tours enjoyable you need to have a mountain bike. There are some rough or technical passages but they are never so long that you will lose too much time if you need to get off and push. The routes have up to 500m of ascent and give a feel for the mountainous regions around Lake Garda. They are an ideal introduction to the joys of mountain biking for sporty kids as long as you properly motivate them and take appropriate breaks. The prime example is route 300 from Riva over the old Ponale road to Pregasina – the definitive dream beginner route in the Lake Garda area, a route I did with my son when he was just six years old.
300
Riva – Pregasina (DVD tour)
350
Forte Rivoli – Wohlgemuth Fortress
300 a
Riva – Pregasina (DVD tour)
351
Val delle Grate
301
Arco- Laghel round
352
Monte Moscal
301 a
Arco- Laghel round (DVD tour)
353
Garda – Adige round
302
Riva – Lake Ledro – circuit
354
Monte Lenzino
303
Marmitte dei Giganti (DVD tour)
355
Monte Luppia
304
Busatte – St. Lucia
356
Rocca Vecchia
305
Malcesine Scenic Road
306
Lake Ledro – Rifugio Al Faggio
307
Lago di Toblino – Ranzo
4. Half day tours:
Half day tours have roughly 500 to 1200 meters of ascent and take on average 3 to 5 hours depending on your speed. The border between half and full day tours is rather flexible as the average speed on mountains can obviously be very different; if you plan on taking long breaks, several of the 400 tours can become comfortable full day tours.
400 a, b
Dosso dei Roveri (in parts DVD tour)
450
Monte Belpo double giro
401
Marocche di Dro – Braila
451
Forte Monte
402
Passo della Morte
452
Garda – Malcesine panorama tour
403
Mezzo Giro di Monte Baldo
453
Garda track round
404
Dos Remit
405
Monte Velo 1
406
Monte Velo 2
407
St. Barbara – Nago
5. Day tours:
In this day tour category you'll find route suggestions with between 1200 and 2000 meters of ascent. As in the previous section, this means that the time needed will depend very much on the individual. For those of you who can climb upwards of 600 meters in an hour, some of these tours will be closer to half day tours.
500
Tremalzo (over Lago di Ledro) – (DVD tour)
550
Malga Ime – Prada – Sperane-track
501
Monte Baldo north
551
Moscal – Etsch – San Marco
502
Lago di Cei – Albi – route
503
Malga Campo – Monte Velo-round
504
Bocca Fobia – Corna Vecchia (partially DVD tour)
505
Ledro – Bocca dei Fortini – Corna Vecchia
506
Bocca dei Fortini – Baita Segala – Pregasina
507
Bocca dei Fortini – Passo Guil
508
Passo Due Sassi – Cavedine
509
Bocca di Trat – Adrenalina 1
510 a
San Giovanni – Lake Tenno
510 b
San Giovanni – Lake Tenno – Campi – Pinza
510 c
San Giovanni – Lake Tenno – Campi – Mga. Grassi
6. Extrem tours:
Tours in the extreme category put enormous demands on your physical stamina and fitness and / or your technique. They contain in excess of 2000 meters of ascent or extremely long distances. On the technical side, the majority of the tracks are S2 and higher according to the single track scale.
600
Monte Baldo Supergiro
---
tour example – Tour 354: Monte Lenzino
Region: South Lake Garda
Synopsis: a short mountain tour with challenging track passages, Tracks: Ø S1, max. S2
Start and finish: Garda
Riding surface: paved road: 30%, gravel/dirt road: 25%
double track/bike path: 22%, singletrack: 23%
Distance: approx. 19 km / 12 miles
Highest point: 442 m / 1450 ft
Ascent/Descent: approx. 650 m / 2133 ft
Map: KOMPASS WK 102, 692
Refreshments: Bar, Pizzeria in Albisano
---
---
---
Route description:
This tour starts in Garda at the road turn off to Albisano. The tarmac road has a moderate climb meaning that you're nicely warmed up by the time you reach the village. We ignore the turn to Monte Luppia (see tour 355 which could be added to the end of this tour should you feel the need for some further tricky tracks) and having arrived in Albisano we turn right at the car park and take the steep road up to the Hotel Torre del Garda. After about two hundred metres we keep right and ride past the last houses. The road turns into a gravel track which gets ever steeper. At the wayside cross we keep going straight on until the view takes our breath away.
Take a break to drink it all in – Garda and its lake lie at our feet, Monte Moscal and the Rocca Vecchia frame the picture radiating peace and happiness. Only the quietest hum from the rabble down below is audible up here. We continue along the flank of the mountain. It starts to go steeply down hill until we reach a point with big obstacles requiring all your cycling technique to get past. The passage isn't so long that less technical riders need to get scared off, you can take your time practising riding down steep steps or watch your fellow bikers as they have a go. The track finishes at the golf course near Castion Veronese and the route continues on around the mountain. We keep left on the meadow and ride towards the woods. Here we change onto a roughly gravelled forestry road which becomes a single track.
At the prominent cross above Albisano our circuit of Monte Lenzino comes to an end. We roll into the village and take another small and bumpy cart track taking us in the direction of the church. You can have a break at the little square and shouldn't miss taking a look around the church either. Once again you have a fantastic view over Torrid del Benaco, Lake Garda and its surrounding mountains. On top of that you can find the entrance to a nice little track which you would never have guessed was there. Another little treat. You emerge from the track at about half height on the signed pilgrim's route (Percorso del Pellegrino).
Here we keep left and ride down to Coi, reaching the road between Albisano and Torri del Benaco in the corner of a hairpin bend We cycle uphill for a bit to where the next track is waiting. We keep right at the fork near the Via Murette di sotto and follow the track that soon becomes a single track. Further on it becomes difficult again, as the Murette Trail runs partially over sloping rock slabs. At last we reach the pilgrim route again and have to use the coast road for a short stretch but soon we turn right onto path number three which takes us to the shore of lake Garda and then back to Garda itself.
---
tour example – tour 551: Moscal – Etsch – San Marco
Region: South Lake Garda
Synopsis: varied tour with tracks, tracks: Ø S1, max. S2
Start and finish: Garda
Riding surface: paved road: 39%, gravel/dirt road: 29%
double track/bike path: 24%, singletrack: 8%
Distance: approx. 49 km / 30 miles
Highest point: 439 m / 1440 ft
Ascent/Descent: approx. 1100 m / 3609 ft
Map: KOMPASS WK 102, WK 692
Refreshments: Bar in Rivoli Veronese
---
---
---
Route description:

This tour links together a few lovely tracks making a circular tour which in many ways can be seen as a journey through history. We start once more at the church in Garda and head up the Via San Beranrdo to the the plateau near Baesse. Once up, we turn right in a sharp curve near a house. Now and again I've come across a little yappy dog here who runs a narrow line between courage and foolishness – as soon as you sharply to him he scuttles back off to the safety of his home. We ride on through the fields towards Albare, then turn right and roll a few dozen meters along the road before heading off along a gravel track to the left. After a small climb a short downhill follows. A few meters later you turn off to the right and soon have the first target in view – Monte Moscal.
In Incaffi you stay left and ride uphill over two long curves. After the house with the amazing view (Che bella panorama!) you'll find the Sentiero Nr. 2 taking you up to Monte Moscal. I have known it to be closed by a barrier but you can still get through. Should you happen to come across somebody you should be respectful of the sign saying private road "Strada privata" and politely ask: "Scusi, e questo sentiero passibile per bici?" – "Excuse me, may I ride my bike along here?" In Italy I've never had a negative response to this question.
Now the path becomes interesting and increasingly narrow. It heads over a meadow before entering the woods where it soon forks. We take an inconspicuous left turn and the path becomes steep – most people will have to get off and push the last few metres up to the peak. Once at the top the bit of effort is rewarded by an exquisite 360 degree view. The spot has something spiritual about it, I can well imagine people gathering here thousands of years ago to carry out their archaic rituals. A rough, small track takes us downhill over a few switchbacks enabling you to polish your technique – or just get off and push a bit.
In Incaffi we head along the road to the left before turning left again up towards Castello where a nice little downhill starts to Affi. The end of this track gets good and spicy with a few steps. Next up is the necessary transfer down to the Adige. As I described in tour 451, we slickly bypass the huge traffic mess at the motorway exit and before you know it arrive stress free in Ragano.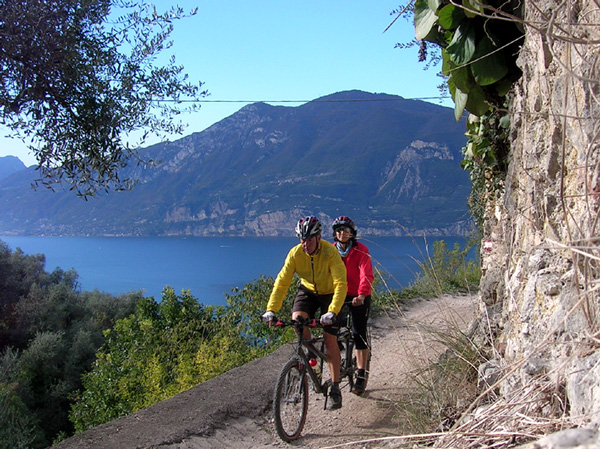 Quickly across the road and then the GPS-Track follows the lane Gaium. You shouldn't meet too much traffic, it's mostly just mountain bikers back here. We grind on along the old Roman road up to the plateau by Rivoli Veronese (tour 353 takes this passage in the opposite direction).
If you've got the time and inclination take a little detour over to the Forte Rivoli, which I wrote about in Tour 353. If not, go on through the village and down the gravel track signed "Strada Dogana Fornaci" which will bring you out again at the Adige. We take a left at the main road and ride on uphill to the turn onto the old military road leading up to the Forte San Marco. The turn off can be found shortly before Zuane and brings us relatively flatly to a quarry where the climb starts. In 40 turns on what is sometimes a very rough surface you get a real Tremalzo feeling. The "fun" thankfully doesn't last quite as long as over there but has it's moments too. The climb faces South West meaning there's almost no shadow and the sun can be merciless. The fort appears quite late on, once you reach the flat passage. A few last turns, a few more curses and then wonder at the astonishing view from the forecourt of the fortress.
Forte San Marco was built by the Italians between 1888 and 1913 in order to defend the newly won Adige valley. In 1859 Austria had to sign Lombardy over to Piedmont having the lost war against Piedmont and France. Veneto and the Veronese gorge, the Chiusa di Verona stayed under Austrian control until 1866 when Italy allied itself with the Prussians against the Austrians. Italy may well have been beaten at Custoza but thanks to the Prussian victory at Königsgrätz (Hradci Králové in the Czech Republic) they were still on the winning side and gained the Veneto. Forte San Marco together with Forti Monte, Ceraino and Wohlgemuth (see tours 353 and 451) and the road block at Incanale forms an enormous lock bolt over the valley narrows. Forte San Marco is a monumental, stretched out building in private hands, though can be visited if you exercise the necessary caution.
The track fan's treat of the day comes up straight after the Forte. The path to Lubiara takes you over rough stones, steep rock slabs and contains some steps which have foisted themselves in. Some will find this passage too long as they want to or have to push, others will be sad that it's only about 100 meters of descent down to Lubiara. That's the nice thing about the tours at the south end of Lake Garda, there are countless demanding tracks but they are easily worked into tours which are interesting even for beginners.
From Lubiara the tour heads back towards Garda. Down to the left it quickly rolls to an imposing cross. Turn right here along the gravel track until hitting the road which breaks through the moraine belt around Monte Zovo. You shouldn't miss the turn to the right on the downhill which takes you onto a little back road along the flanks of the hills. From Christane we follow the cycle path as far as Gazzoli. Turn off to the right, then follow a field track and keep straight on over the road. Now for a short stretch we find ourselves on the track that brought us in. At the first fork, right at the next left thus avoiding taking the same track twice. Besides, on this alternative passage there's another nice little track making a very fitting end to this circular tour.